CLASSIC CEYLON (9 NIGHTS / 10 DAYS)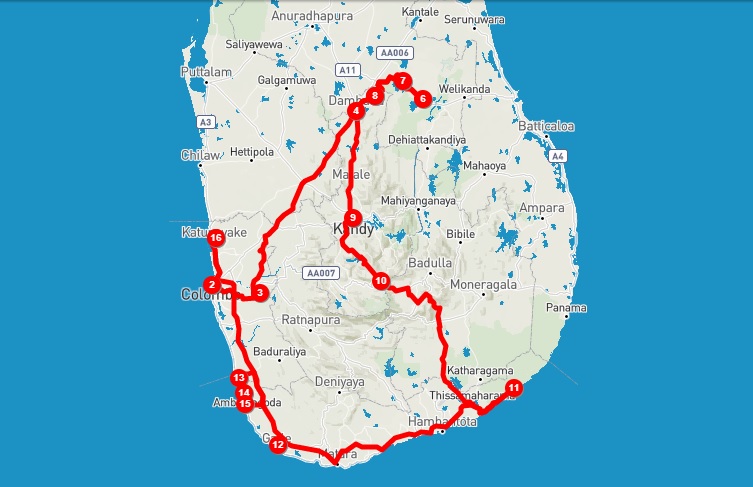 Itinerary
Day 1 - COLOMBO

• On arrival in Sri Lanka, please clear immigration, collect your luggage then proceed through the customs green channel to the arrival lobby. We will be waiting in the designated area with a paging board. You will then be escorted to the vehicle park for your transfer.
• Transfer from Airport to Colombo (Approx: 1Hrs)
• Overnight Stay at Hotel in Colombo
Day 2 – COLOMBO – DAMBULLA – SIGIRIYA
After breakfast proceed to Sigiriya (Approx: 4Hrs)
Optional En route Visit Pinnawala Elephant Orphanage: The Pinnawela Elephant Orphanage is unique in that it breeds wild elephants in captivity and also takes care of orphaned wild elephants found in the jungles. The feeding process of these elephants is extremely interesting. Baby elephants drink at least 7 bottles of milk all in large slurps, holding the bottles precariously in their trunks.
Thereafter proceed to Dambulla
Visit Cave Temple in Dambulla: Point of Sri Lanka, Dambulla is a town built around a vast isolated rock mass 500 ft and a UNESCO World Heritage Site. It was here that King Valagambahu took refuge in the 1st century B.C. The view from the top of this rock is breathtaking 350 ft. above are a series of five caves which was later turned into a magnificent rock temple by King Valagambahu. In the first cave is a recumbent image of the Buddha 47 ft, long, cut out from the rock. There are images of deities associated with Buddhism. The frescoes on the walls and ceiling could be dated to the 15th – 18th centuries. In the second cave, the finest and the largest, are not less than 150 life size statues of gods. There are numerous images of the Buddha as well. The ceiling too is covered with frescoes which depict great events in the life of the Buddha, and landmarks in the history of the Sinhala People
Thereafter proceed to Sigiriya (Approx 20Mins)
Overnight Stay at Hotel in Sigiriya
Day 7 –SIGIRIYA – POLONNARUWA – MINNERIYA
Visit the famous Dutch ramparts in the Galle Fort with a Portuguese emblem on the southern wall. This fort now houses most of the offices of the government like the old post office, the beautiful Dutch church over 350 years old and other colonial style buildings now monumental of the architectural patterns that prevailed in that era. Walk along the ramparts which rolling plains of green inside the fort with a view of the harbour and the famous old light house… Galle is well known for its cottage industries and lace making which is a traditional southern Sri Lankan craft. Visit a lace making craft center as well as a mask making center. These wooden masks are used in various ceremonies and festivals in Sri Lanka. Each one is hand carved and significant of a certain human feeling.
Optional – Attend the cookery class at New Mama's Guest House Galle.
A guided tour to the local fish market to select fresh seafood for the demonstration, familiarization session of ingredients, spices, condiments & other materials used in Sri Lankan cooking. Preparation Fish curry, Rice, Lentil curry, Vegetable curries and Sambol, and then served to the table to enjoy a Typical Sri Lankan Lunch.
Overnight at Frangipani Tree Talpe (boutique) (suites / BB basis)
Day 8 – 25 March 2020
After breakfast proceed to Colombo.
En route visit a moonstone mining place.
Continue on your journey to Colombo.
Optional – En route you may do the boat excursion in Madu Ganga between Colombo and Galle there exist a beautiful river called Madu Ganga in Balapitiya which offers a glimpse of how it has become a part of the life of the people in the area. In the outset Madu Ganga is considered as Sri Lanka's second largest wetland consisting of 28 islands including two main islands providing shelter to 215 families.
Over the past generations Madu Ganga has played an important role in providing food and shelter and of course providing easy access to the main land via small wooden boats.
The main treasure of Madu Ganga is its mangroves that act as a bio-lock to the area in giving protection to the variety of aquatic plants and animal life. They provide a home for different kinds of aquatic plants, crabs, shrimps, fish, various invertebrates and other animal life.
According to villagers the main secret of the Madu Ganga is the tide. On any given day during the low tide the sea water comes inland and mixes with fresh water and in the evening it is the other way around – the magic of nature.
Continue, on arrival check into your hotel and remainder at leisure.
Overnight at Shangri-La Colombo 5* (deluxe-lake view rooms / BB basis)​
Day 9 – 26 March 2020
Morning at leisure.
Evening – sightseeing of the Colombo City.
Visit sights such as The Galle Face Green, The Old Parliament, Old lighthouse, President's House, First ever super market in Sri Lanka-Cargills Ceylon LTD, Colombo Fort, Red Mosk, Pettah Local Market, Bere Lake, Slave Island, Hindu Temple (Mutthumariamman Temple), Colombo Town Hall, New Cultural Centre (Nelum Pokuna), The Sri Lankan Cricket Museum (to see all the major achievements of the National Cricket team over the years), Colombo 7 (Most Expensive Land Area), Independence Square, BMICH, Gangarama Temple.
Return and remainder at leisure.
Overnight at Shangri-La Colombo 5* (deluxe-lake view rooms / BB basis)
Day 10 to 14 – 27 to 31 March 2020
Engross yourselves in the cricket.
Transfers to and from the R. Premadasa International Cricket Stadium included within your tour package. And vehicle at your disposal for sightseeing/ city running.
Overnight at Shangri-La Colombo 5* (deluxe-lake view rooms / BB basis)
Day 15 – 01 April 2020
Relax & unwind. More sightseeing with some time free for shopping.
Overnight at Shangri-La Colombo 5* (deluxe-lake view rooms / BB basis)
Day 16 – 02 April 2020
Leave for the CMB Intl Apt in order to connect to your departure flight.
End of a memorable tour.
Note: Visits to wild life parks will be at client's own risk. Safari vehicles (non-air-conditioned) available are basic with basic insurance cover (not comprehensive as in the case of vehicles used for tours)
Air fares (International & Domestic)
Visa fees for entering Sri Lanka, please visit http://www.eta.gov.lk/slvisa/ for the latest update re visas
Under no circumstances, should any additional payment be made at the Immigration and Emigration Counters, for ETA that has already been paid for on-line.
Tips/porterage etc.,
Terms and conditions apply
Experiences featured on tour
Tour of Galle Fort & Town
Cookery class in Galle
Visit to a moonstone mine
Boat safari in Madu Ganga
Evening city tour of Colombo